The life of Saint Francis in the frescoes of Giotto di Bondone (1266-1337)
On the walls of the nave of the upper church of St. Francis in Assisi (built over the tomb of the saint) Giotto and his collaborators in about 1305 or 1306 painted a grand series of 28 frescoes illustrating the life of Saint Francis, derived from ancient biographies of the Saint, especially that of St. Bonaventure. Nearly all of them are reproduced below.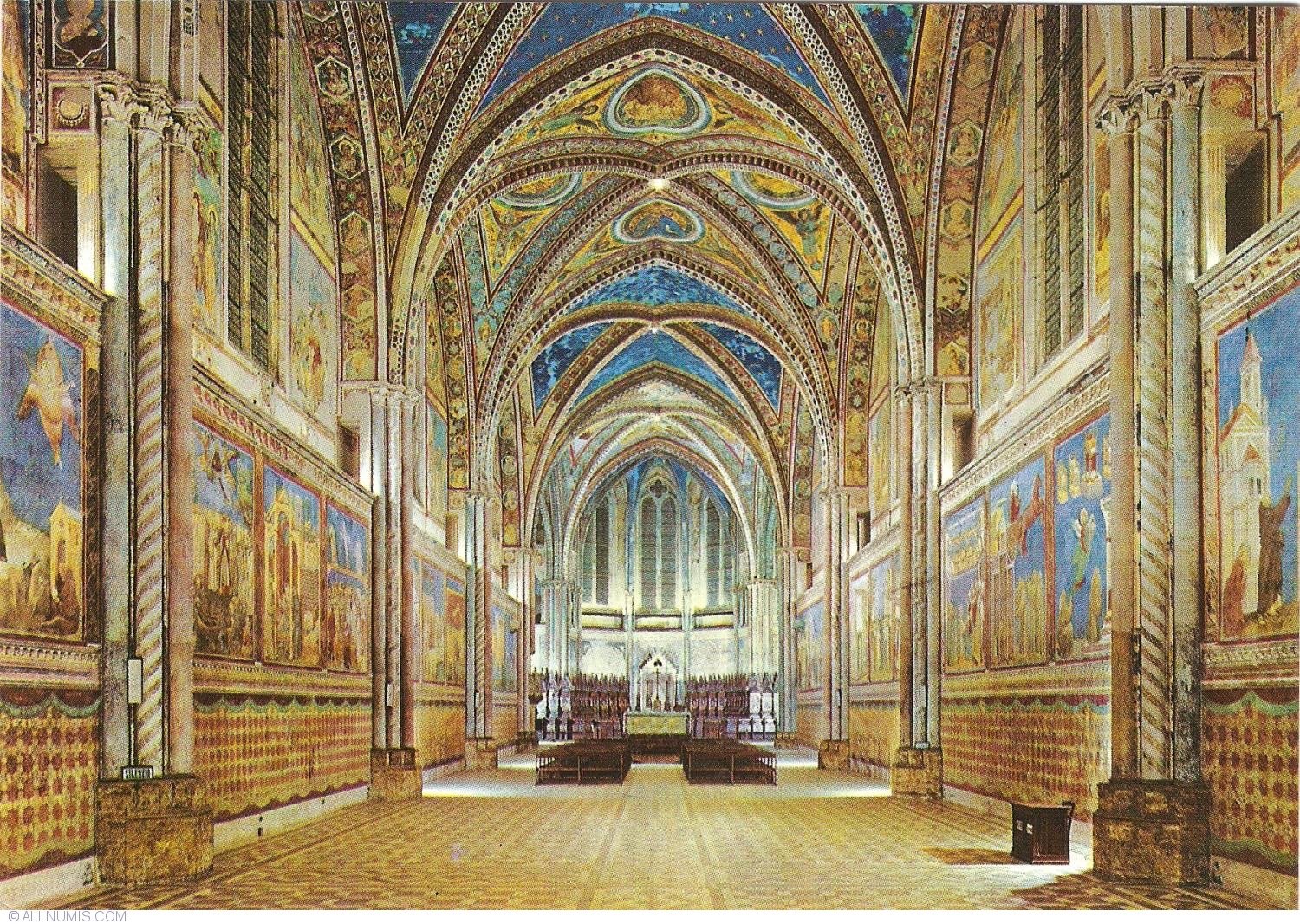 1. A man of Assisi prophetically venerates the young Francis, spreading his mantle at his feet in the town square
Afterwards, when he had perfectly put on Christ, Francis would say that even while he was in secular attire he could scarcely ever hear any mention of the divine love without being deeply moved in his heart. At the same time the sensitivity of his gentleness, together with a refined set of manners, a patience and affability beyond human decorum, and a generosity beyond his means singled him out as a young man of flourishing natural disposition. This seemed to be a prelude to the even greater abundance of God's blessings that would be showered on him in the future. Indeed a certain exceptionally simple man of Assisi, whom it is believed God had instructed, whenever he chanced to meet Francis going through the city, used to take off his cloak and spread the garment under his feet, claiming that Francis was worthy of reverence, since he was destined to do great things in the near future and would be magnificently honoured by the entire body of the faithful.
Cf. St. Bonaventure's Major Legend of St. Francis, I:1
2. Francis gives his mantle to a poor knight
Up to this time, Francis was ignorant of God's counsel for him. Drawn in several directions to the external by the demand of his father as well as forced down to the inferior by the corruption of his natural origin, he had not yet learned how to contemplate the celestial nor had he become accustomed to savour the divine. And because affliction can enlighten spiritual awareness, the hand of the Lord was upon him, afflicting his body with prolonged illness in order to prepare his soul for the anointing of the Holy Spirit. And when the strength of his body was restored, dressed as usual in his fine clothes, he met a knight who was of noble birth but poor and badly clothed. Moved by a pious impulse of care for his poverty, he took off his own garments and clothed the man on the spot. At one and the same time he fulfilled the two-fold duty of covering over the embarassment of a noble knight and relieving the want of a poor human being.
Cf. St. Bonaventure's Major Legend of St. Francis, I:2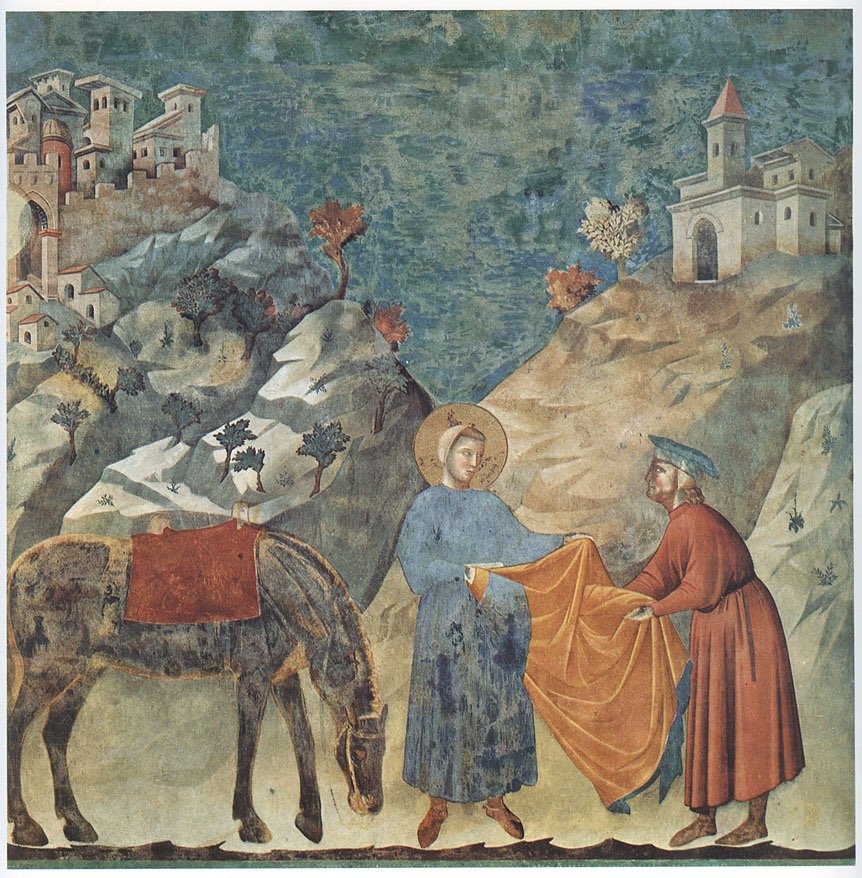 3. Francis sees in a dream a palace filled with arms marked with the cross
When he had fallen asleep, the divine kindness showed him a large and splendid palace with military arms emblazoned with the insignia of Christ's cross. When he asked to whom these belonged, the response he received was that all these things were for him and his knights. He assessed the unusual vision to be a judgment of great prosperity in the future. For this reason he set out to join a generous count in Apulia, hoping to obtain the glory of knighthood, as his vision had foreshadowed. Shortly after he had embarked on his journey and had gone as far as the neighbouring city, he heard the Lord speaking to him during the night , "Francis, who can do more for you, a lord or a servant, a rich person or one who is poor?" When Francis replied that a lord and a rich person could do more, he was at once asked, "Why, then, are you abandoning the Lord for a servant and the rich God for a poor mortal?" And Francis replied, "Lord, what do you want me to do?" And the Lord answered him, "Go back to your own land ..." When morning came, he returned in haste to Assisi, free of care and filled with joy, and he awaited the Lord's will.
Cf. St. Bonaventure's Major Legend, I:3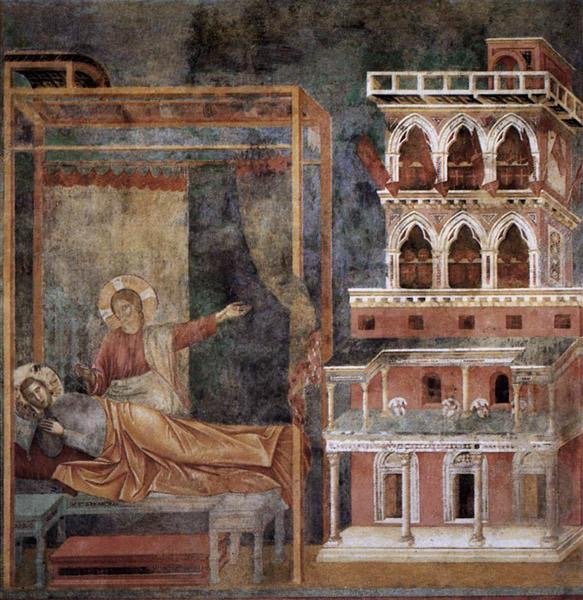 4. Francis prays before the Crucifix at San Damiano
One day while passing in front of the church of St Damian, which was threatening to collapse because of age, Francis felt an irresistible urge to go inside. He prostrated himself before the image of Christ with devotion. Suddenly he felt like a completely different being. While he was in the grip of this emotion, the image of Christ crucified began to talk. He called him by name and said to him: 'Go, Francis, and repair my house because it is falling into ruin.' Francis was stupified. He trembled all over and almost went out of his mind at those words. He prepared himself to obey and summoned all his energies in order to carry out the command.
Cf. St. Bonaventure's Major Legend of Saint Francis, VI:2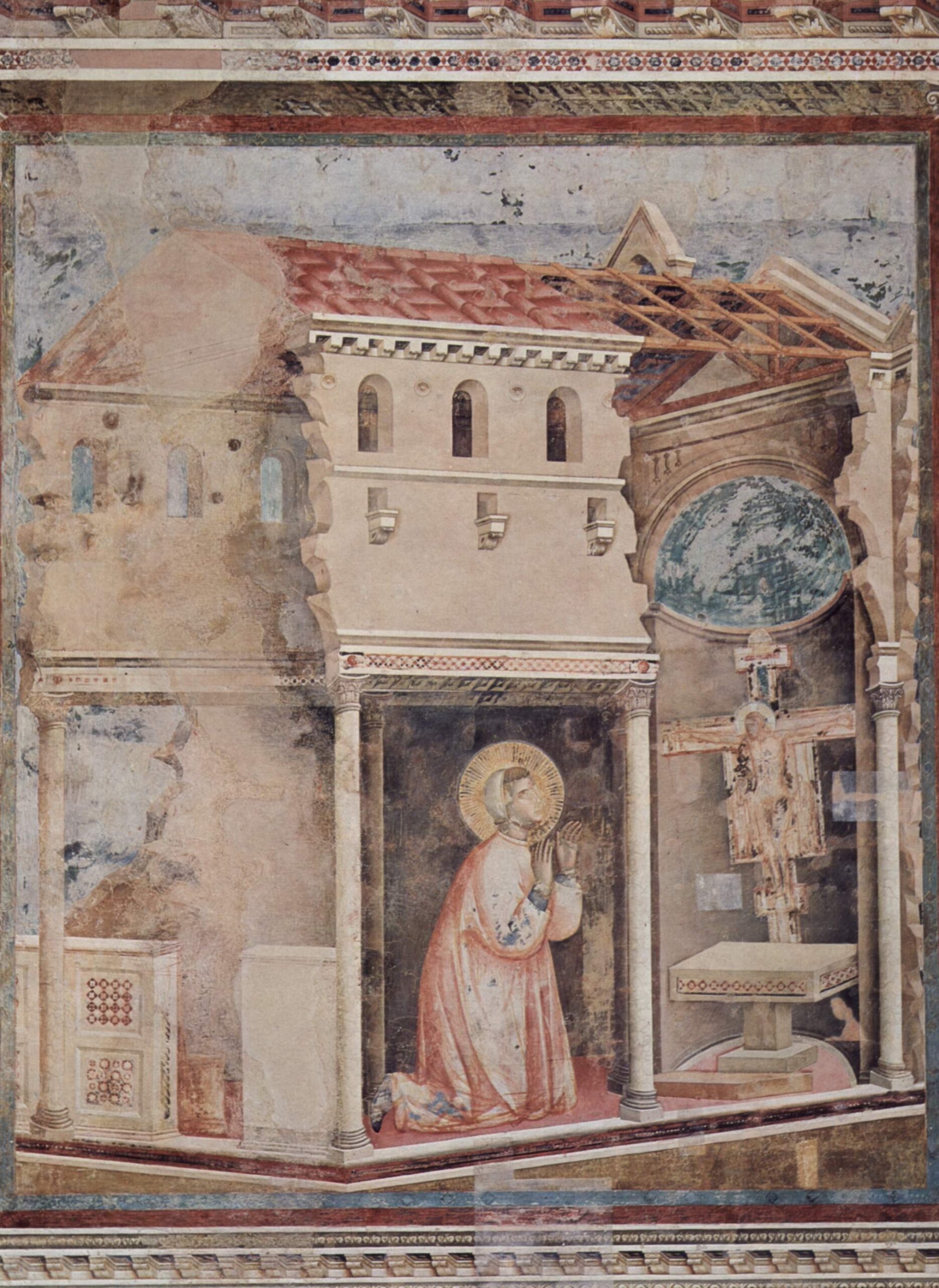 5. Francis renounces his paternal inheritance, stripping off his clothes before the Bishop of Assisi
His father of the flesh worked on leading the child of grace, now stripped of his money, before the bishop of the city that he might renounce his family possessions into his hands and return everything he had. The true lover of poverty showed himself eager to comply and went before the bishop without delaying or hesitating. He did not wait for any words nor did he speak any, but immediately took off his clothes and gave them back to his father. Then it was discovered that the man of God had a hair shirt next to his skin under his fine clothes. Moreover, drunk with remarkable fervour, he even took off his trousers, and was completely stripped naked before everyone. He said to his father, "Until now I have called you father here on earth, but now I can say without reservation, 'Our Father who art in heaven,' since I have placed all my hope and all my treasure in him." The bishop, recognising and admiring such intense fervour in the man of God, immediately stood up and in tears drew him into his arms, covering him with the mantle that he was wearing. Like the pious and good man that he was, he bade his servants give him something to cover his body. They brought him a poor cheap cloak of a farmer who worked for the bishop, which he accepted gratefully and with his own hand marked a cross on it with a piece of chalk, thus designating it as the covering of a crucified and half-naked poor man.
Cf. St. Bonaventure's Major Legend of St. Francis, II:4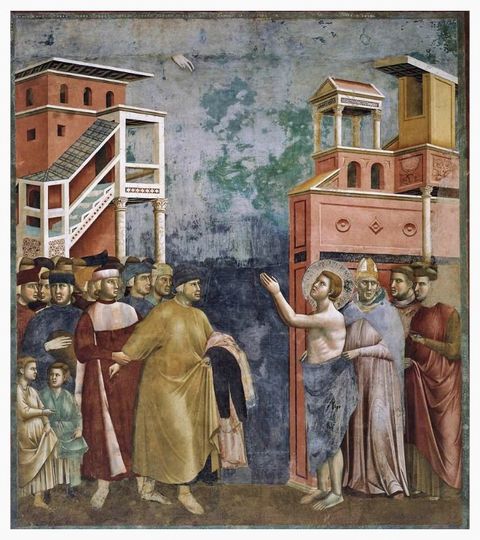 6. Innocent III in a dream sees St. Francis supporting the falling Lateran
While the Vicar of Christ listened attentively to a parable told by Francis and its interpretation, he was quite amazed and recognised without a doubt that Christ had spoken in this man. But he also confirmed a vision he had recently received from heaven, that, as the Divine Spirit indicated, would be fulfilled in this man. He saw in a dream, as he recounted, the Lateran basilica almost ready to fall down. A little poor man, small and scorned, was propping it up with his own back bent so that it would not fall. "I'm sure," he said, "he is the one who will hold up Christ's Church by what he does and what he teaches." Because of this, filled with exceptional devotion, he bowed to the request in everything and always loved Christ's servant with special love. Then he granted what was asked and promised even more. He approved the rule, gave them a mandate to preach penance, and had small tonsures given to all the lay brothers, who were accompanying the servant of God, so that they could freely preach the word of God.
Cf. St. Bonaventure's Major Legend of St. Francis, III:10