"Why after you? Why after you?" This question, asked by one of the first and closest followers of St Francis, has been echoed ever since. Why do so many people go after Saint Francis today?
Today more biographies exist of the Little Man of Assisi than of any other saint and new studies appear every year. Over the last 800 years his inspiration, his words and his way of living have inspired the rich and the poor, governments and individuals, secular and religious organisations. His inspiration is timeless and his influence worldwide.
Born into a rich merchant family, Francis left his material wealth to seek wealth with the Lord. Taking the Gospels as his way of life, Francis worked and lived with the poor. His influence spread, and soon followers came to be with him, to live as he did. These we call Franciscans.
Today, and in today's world, they live as poor witnesses to the life of St Francis who was a rich witness to the life of Christ.
Saint Francis, a man of our time. A man for all time and every time.

We, Franciscan Friars of the Immaculate Conception Custody in Great Britain, are members of a Roman Catholic religious Order inspired by the example and mission of St Francis of Assisi to, "follow the teaching and the footsteps of our Lord Jesus Christ;" devoting ourselves to the worship of God in a fraternal life of prayer, poverty and service to others.
Our Custody is part of a worldwide movement of Gospel men and women - brothers and sisters to the people of our time and to all creation - in the manner of Francis and Clare of Assisi.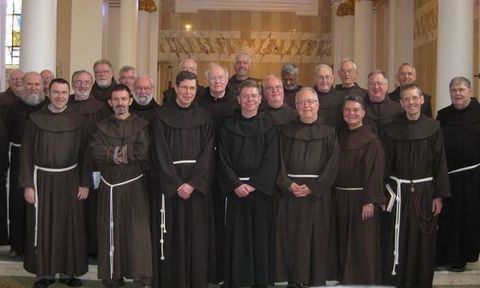 Franciscan Friars