Saint John (Joachim) Wall
Dates: 1620 – 1679
John Wall was born in 1620, probably at Chingle Hall, near Preston in Lancashire. As a young man he entered the English College in Douai where he was taught by the famous Dr. Kellison. In 1641 he transferred to the English College in Rome, where he was ordained a priest in 1645. After a brief spell as a missionary in England he returned to Douai and asked to enter the Franciscan College of St. Bonaventure which John Gennings had erected there in his restoration of the Franciscan Province of England. In January 1651 he was accepted into the Order and took the name Joachim of St. Anne. Five Friars from that friary had already been martyred.
John Joachim, although only 6 months professed was appointed Guardian of the college and later master of novices. In 1656 he assumed the false name Francis Webb and re-entered England as a missionary in Worcestershire. He remained there for 22 years ministering to the Catholics of the area. In 1678 he went to London to meet the Jesuit Claude de la Colombière, and the two spoke together of their desire for martyrdom. The context of this meeting was the renewed persecution that was unleashed in the wake of the incriminating lies of Titus Oates and his invented Catholic plot against King Charles II.
Returning from this encounter, John was staying with a friend in Rushock Court. There he was mistaken for one of the so-called plotters, Francis Johnson, and arrested. When he refused to swear to the religious supremacy of the King, he was imprisoned for five months of dreadful suffering. At the end of this time, on 25th April 1679, he was condemned to death for high treason, since he was a priest who had been ordained abroad and returned to exercise his ministry in contravention to the Elizabethan anti-Catholic laws. He argued in vain that Charles II's amnesty of 1660 should have covered him, as indeed it should. Instead he was sent to London to be interrogated by Oates, Bedloe, Dugdale and Pranse. He was found innocent of the accusation of complicity in the "Papist Plot" but because of his priestly ordination and ministry, his death sentence was nevertheless confirmed and he was sent back to Worcester, where he was hanged on 22nd August 1679.
His fellow Friar William Leveson, whose own brother Francis Leveson would himself be martyred at the age of 34 in 1680, looked after John Wall in his last days in prison. He recounted the condemnation and death of the martyr in a letter. John Wall's body was buried in the cemetery of the church of St. Oswald in Worcester, and his head returned to Douai, where it was venerated as a holy relic.
Along with John Jones and 38 other English martyrs John Wall was beatified by Pius XI on 15th December 1929 and canonised by Paul VI on 25th October 1970.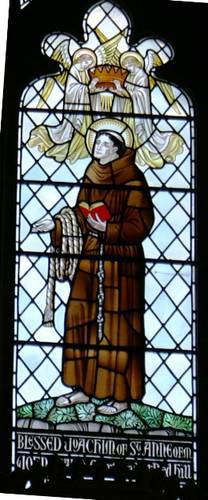 St John Wall (who took the name Joachim of St Anne) is depicted  while still Blessed.